Sensitive No Yellow Shampoo
Regular price

$28.00 USD

Sale price

$26.00 USD

Unit price

per
Fragrance-free purple shampoo for blonde hair, suitable for sensitive scalp.
# No fragrance
# No yellow tones
# No rough & crunchy hair
# Nothing unnecessary
Description
Ingredients
How to use
Shampoo that eliminates yellow tones in blonde hair. The intense violet pigments in the shampoo neutralize unwanted, yellow tones in light hair. The shampoo is a great choice for lightened and highlighted hair, as well as grey and naturally blonde hair. No Yellow Shampoo is hypoallergenic, fragrance free, unscented, gluten free, soy free and paraben free. 100% vegan and cruelty-free.
Say no to dryness
-
Fragrance-free
-
100% vegan and cruelty-free
-
hypoallergenic
-
Say no to dryness
-
Fragrance-free
-
100% vegan and cruelty-free
-
hypoallergenic
-
Say no to dryness
-
Fragrance-free
-
100% vegan and cruelty-free
-
hypoallergenic
-
Say no to dryness
-
Fragrance-free
-
100% vegan and cruelty-free
-
hypoallergenic
-
How NO NOTHING is different?
#1 ENVIRONMENT FIRST

Packaging for all No Nothing products is currently made of bio-based sugarcane plastic. The production of bio-based plastic reduces oil dependency and emits less carbon dioxide than conventional plastics. The packaging is also fully recyclable; by recycling bio-based plastic we achieve an even lower carbon footprint.

#2 NO ANIMAL INGREDIENTS

No Nothing products are vegan, meaning they do not contain any animal-based ingredients.

#3 CLEAN BEAUTY

All No Nothing products are created with European ingredient safety standards. Our shampoos and haircare products are made in Finland. Our aerosol products are made in Sweden.

#4 ALLERGY LABEL: GUARANTEED QUALITY AND RELIABILITY

All No Nothing products have been granted the Allergy Label by the Finnish Allergy, Skin and Asthma Federation. This trusted label is granted to objectively researched products as proof of their generally non-allergenic content not causing asthma, skin irritation or sensitization, or fragrance sensitivity.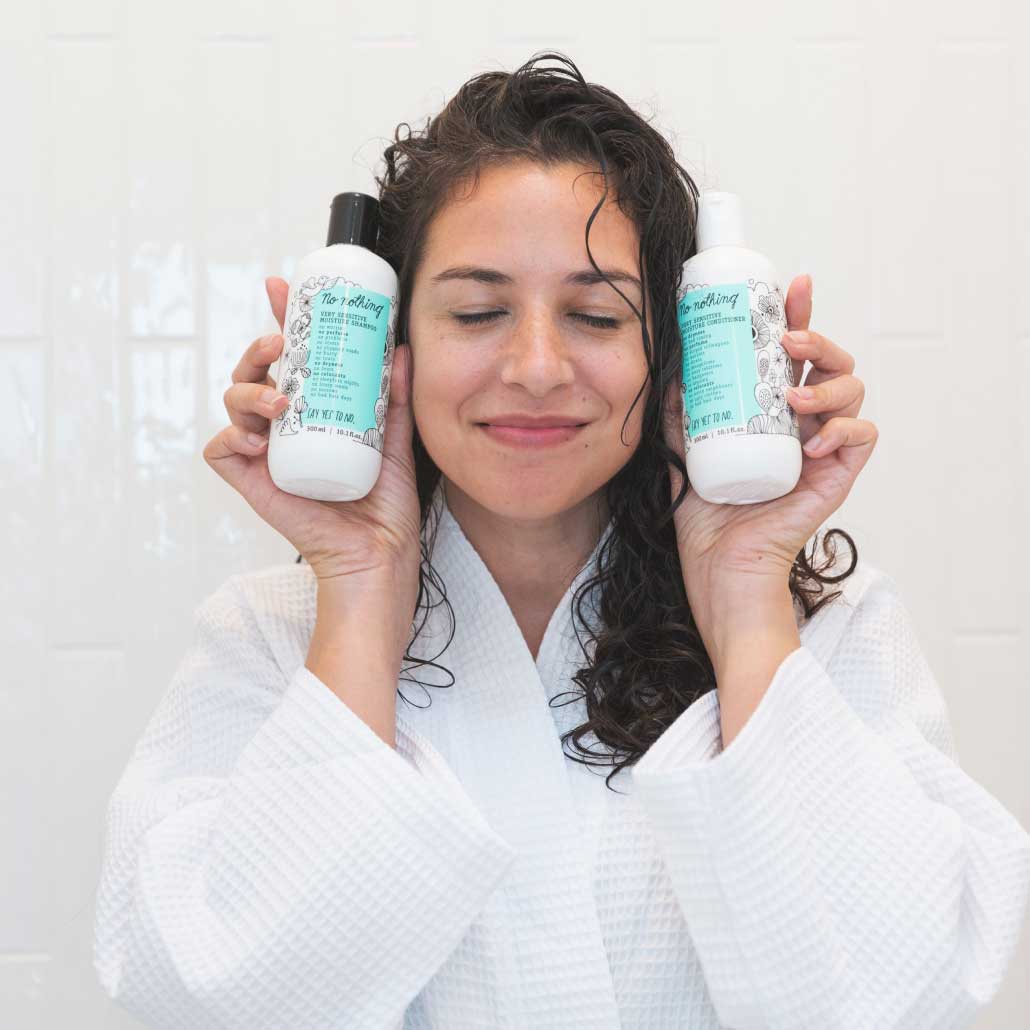 No yellow shampoo
Best product I have ever tried!!! Tones my gray hair beautifully. So very happy I tried it and will use it from now on. Love it!!!
No yellow shampoo
I love this shampoo so much! It really does work wonders and makes the yellow less noticeable. I became allergic to fragrances after my treatments for melanoma. This is the only brand I use.
Great results!
I've had nothing but great experiences with Four Reasons products for my platinum blond hair. This shampoo is just as solid - just the right amount of pigment to take out that pesky yellow, but doesn't leave my hair dry as many other brands do. Can't recommend it enough!
useful purple shampoo
I use purple shampoo once a week for my hair and for my toe-head kiddos (on recommendation from our hair stylist). I leave the shampoo on my hair for 5-10, and it helps with our natural brassiness. My hair feels brighter, less dull, after using.I didn't particularly like the scent - it smelled slightly medicinal, but it dissipated and isn't a major problem. My kids and I did not have any irritation or redness when using this product. I do think it works even better when your hair is colored.
Easy peasy
I love bleaching and dying my hair, so I'm always on the hunt for new products. I love how easy this is to use, all you have to do is leave it on the hair for around 3 minutes, rinse and bam! You're all done, easy peasy. It gets rid of any brass or yellow tones in the hair in just a few minutes.
Say yes to no.