Before No nothing , salon-quality products were up to no good.
If you had any sensitivities, you only had two options: look good but suffer from itchy scalp, allergic reactions, and low self esteem, or trek to the pharmacy and coat your hair with chemically-loaded concoctions that hurt your hair.
Beauty is about more than just looks. It's also about your confidence, health, and comfort. It was time to say "no."
Sensitivities are more common than you think
Many of us have sensitive scalp and skin, and with complicated product labels full of unrecognizable ingredients like fragrances, phthalates, dyes, certain preservatives and more, it's no wonder so many of us struggle with irritation and allergic reactions to hair products.

In fact, one in three people have reportedly experienced an adverse reaction when exposed to common fragranced products. So you're not alone!
At No Nothing, we only use the quality ingredients that your hair needs.
Our products are perfect for safely cleansing, conditioning and styling your hair. Color-safe, professional formulas nourish healthy hair and skin – with no adverse reactions.
no hidden chemicals
no irritating ingredients
no fragrance
no perfume
no phthalates
no parabens
no gluten
no soy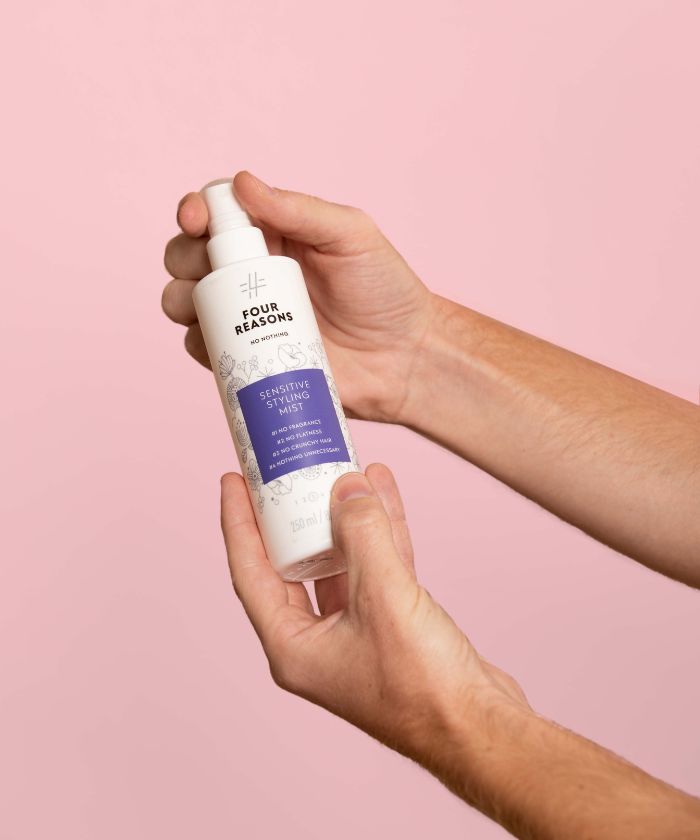 Created with dermatologists
It was important to us to make the best hair products possible: products that are safe for everyone, use only the healthiest ingredients—nothing that could irritate or hurt you, and never compromise on quality. That's why we teamed up with expert dermatologists, caring and experienced hair stylists, and Finland's Allergy, Skin, and Asthma Federation to create No Nothing, a range of sensitive hair products that are as safe and sensible as they are good for your hair.

We formulated a luxurious and non-compromising product line for those with sensitive scalp, skin, and lungs! Every one of our products are hypoallergenic, fragrance-free, unscented, colorant-free, gluten-free, soy-free, free of phthalates and irritating preservatives, as well as many more irritating ingredients.

Our award-winning, salon quality hair products are
100% free from the things that irritate, so you can
feel truly beautiful.
WHAT WE BELIEVE
Sensitivity is a good thing

Sensitivity is what makes us human. We avoid ingredients that irritate your sensitivities, and only use ingredients that celebrate you.

Beauty starts from within

Natural beauty radiates from the inside out. Our formulas are never harsh on your hair, scalp, or skin, never trigger your allergies, and never disrespect your sensitivities—so you can feel healthy, beautiful, and confident.

Transparency is key

What's more irritating than being left in the dark? We never hide behind confusing jargon or so-called "proprietary" fragrance formulas. We share with you every ingredient we use.

We believe in a better world

Feeling good is also about doing good. That's why we practice sustainable manufacturing, are vegan and cruelty-free, and never test our products on animals.