Sensitive Color Care Bundle
Regular price

$46.00 USD

Sale price

$38.40 USD

Unit price

per
Sensitive Color Shampoo and Conditioner bundle

Includes:
1x Sensitive Color Shampoo 300ml / 10.1 fl oz
1x Sensitive Color Conditioner 300ml / 10.1 fl oz
Say no to dryness
-
Fragrance-free
-
100% vegan and cruelty-free
-
hypoallergenic
-
Say no to dryness
-
Fragrance-free
-
100% vegan and cruelty-free
-
hypoallergenic
-
Say no to dryness
-
Fragrance-free
-
100% vegan and cruelty-free
-
hypoallergenic
-
Say no to dryness
-
Fragrance-free
-
100% vegan and cruelty-free
-
hypoallergenic
-
"Don't fall for scented hair products. This is good stuff right here"
How NO NOTHING is different?
#1 ENVIRONMENT FIRST

Packaging for all No Nothing products is currently made of bio-based sugarcane plastic. The production of bio-based plastic reduces oil dependency and emits less carbon dioxide than conventional plastics. The packaging is also fully recyclable; by recycling bio-based plastic we achieve an even lower carbon footprint.

#2 NO ANIMAL INGREDIENTS

No Nothing products are vegan, meaning they do not contain any animal-based ingredients.

#3 CLEAN BEAUTY

All No Nothing products are created with European ingredient safety standards. Our shampoos and haircare products are made in Finland. Our aerosol products are made in Sweden.

#4 ALLERGY LABEL: GUARANTEED QUALITY AND RELIABILITY

All No Nothing products have been granted the Allergy Label by the Finnish Allergy, Skin and Asthma Federation. This trusted label is granted to objectively researched products as proof of their generally non-allergenic content not causing asthma, skin irritation or sensitization, or fragrance sensitivity.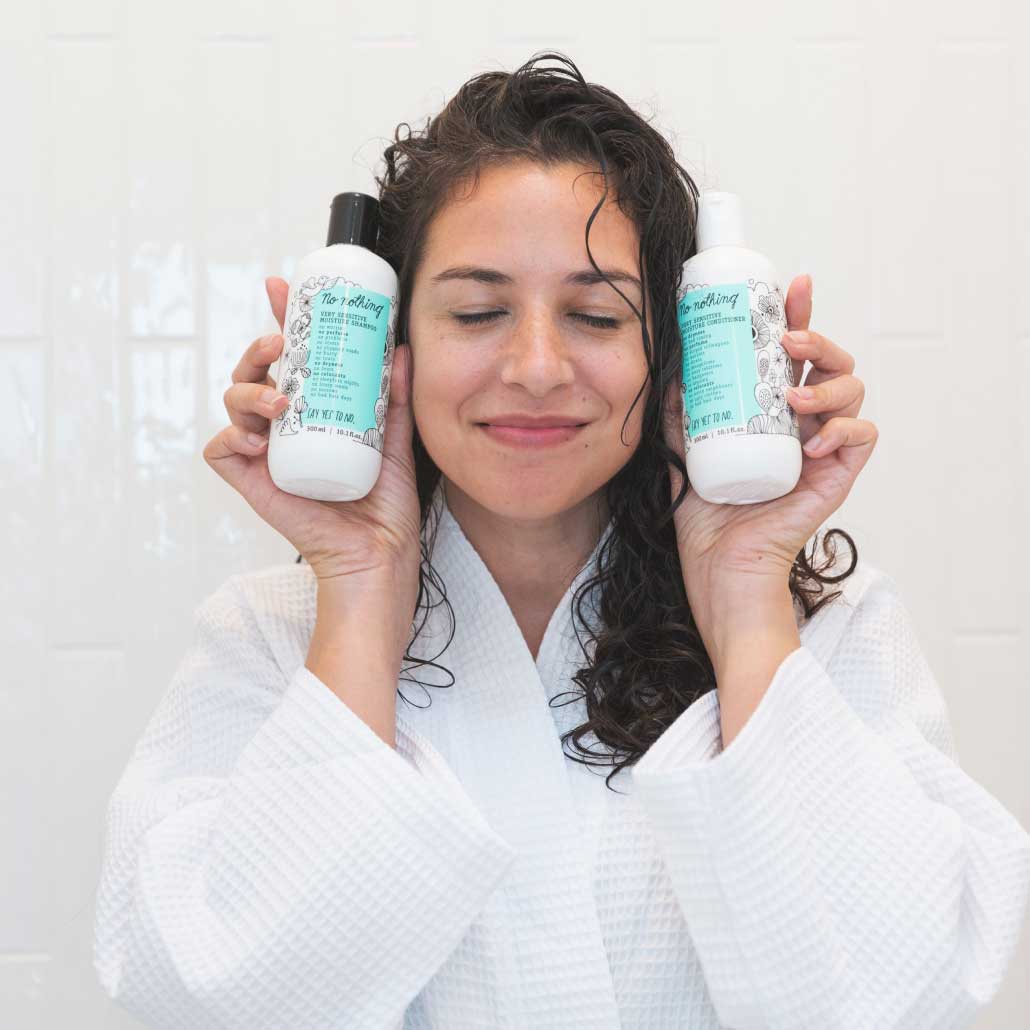 Love your shampoo and conditioner
This is the only product that works for my hair and keeps me from having a reaction to fragrances. So thrilled that I discovered No Nothing!
Product good; Packaging not great
Do not like new bottles…cannot get all out when reach end of product because you cannot unscrew the top like you used to with old packaging. Like the no nothing label, not the new one.
Sensitive Care Bundle
I have been using this shampoo and conditioning for almost 2 years and I absolutely love it! My skin is very sensitive, I had to switch from my other products as I started to get rashes!
At last, a keeper!
I have 15 bottles of shampoo that I've bought, used once and can't use. They have too much fragrance, or irritate my scalp. I bought the Sensitive Color Care Bundle of the shampoo and the conditioner, and absolutely love it! There's no detectable fragrance, it's very gentle on my skin, and leaves my hair feeling soft and clean. Other gentle shampoos left it sticky or dry and unmanageable. I am a true convert to this shampoo and will continue to be a loyal customer.
Waiting on super hold hair spray to come
Back into stock
Say yes to no.